Acti 9 iC60
Miniature Circuit Breakers up to 63 A
Giving you absolute peace of mind when it comes to circuit protection and continuity of service, the miniature circuit breakers are especially ideal if you are working within polluted environments and networks.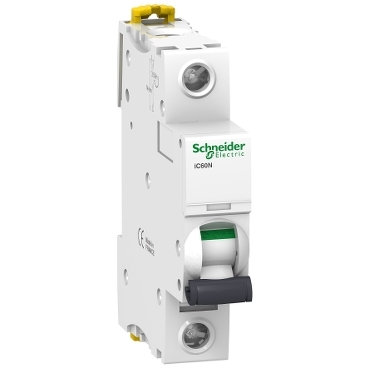 Features

With exclusive features, the Acti 9 iC60 DIN rail miniature circuit breakers have been specifically designed to provide absolute protection as well as first-rate continuity of service.

VisiSafe: provides protection during maintenance work on circuits.
Class-2 insulation: ensures continuous protection for both operators and unqualified persons.
VisiTrip: works to quickly detect faulty miniature circuit breaker outgoers and reduce intervention time.
Add-on fully immune earth leakage protection devices: improved continuity of service, especially in polluted environments and networks.
Nominal current: 1 to 63 A.
Large choice of breaking capacities— up to 100 kA— and tripping curves: B, C, D.
Fully compliant with standards IEC/EN 60898 and IEC/EN 60947-2.
Full compatibility with the Acti 9 range of residual current devices (RCDs) and compact NSX molded case circuit breakers (MCCBs).
Suitable for isolation in compliance with industrial standard IEC 60947.
Operating voltage: up to 440 V AC, insulation voltage: 500 V.
Provides installers with optional add-on earth leakage modules: iC60 Vigi.
Offers a range of optional auxiliaries: indication of state and trip device, shunt trip, undervoltage trip, overvoltage trip.

Benefits

Complete with VisiSafe and VisiTrip, our miniature circuit breakers expertly combine reliability, protection and ease of use.

Set a new benchmark in final distribution circuit breakers.
Absolute security when it comes to circuit protection thanks to VisiSafe.
Provide greater continuity of service thanks to VisiTrip.
Come with easily identifiable part numbers, making the circuit breakers simple to use.
Easy installation with quick and ergonomic IP20B terminal shutters.
Highly durable with robust connections that provide twice the standard tightening torque.
Environmentally friendly with 100% recyclable and recoverable materials.

Applications

Providing essential protection in industrial and commercial buildings, our miniature circuit breakers work especially well in polluted environments and networks.

For the enhanced protection of electrical circuits in all types of industrial and commercial buildings.
Suitable for all settings, particularly polluted environments and networks.
Motor circuit protection.
DC current circuit protection.