TeSys GS
Switch disconnector with fuses and accessories from 32 to 1250 A
TeSys GS is a range of switch disconnectors with fuses from 32 to 1250 A that protects low voltage equipment against damage from short-circuits.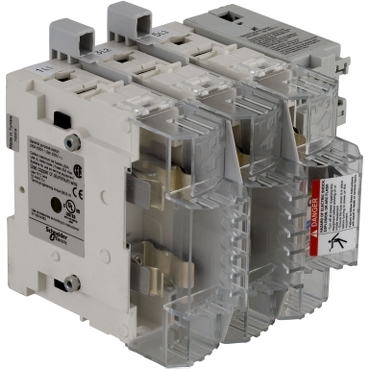 Features

TeSys GS is a flexible solution that provides safety disconnection and overload protection of all low voltage electrical circuits.

Specifications:

For NFC / DIN, BS, UL type fuses
3 or 4-pole versions
Robust and compact handles

Padlockable versions (Up to 3 padlocks)
Lockable, with door interlock
Black/grey or yellow/red
IP65 or IP55

High short circuit performance up to 100 KA
Upstream/downstream pole isolation to Open and close under power and to Manipulate the fuses safely.
Effective protection thanks to fuse speed fusion
Auxiliary contacts:

Two early break and "O" and "I" position signaling auxiliary contacts, configurable and common throughout the range (GS1AM110 and GS1AM101)
Auxiliary contacts GS1AN suitable for isolation. Reversibility of these contacts to convert a N/C contact to a N/O contact and vice versa
Off-load control circuit test facility, with auxiliary contacts S1AM110, GS1AM101 or GS1ANT used in conjunction with handles GS2AHT
Auxiliary "blown fuse" signaling contacts

Benefits

The TeSys GS range provides complete and reliable protection against the short-circuits that can cause considerable damage to your installations and generate risk for equipment and personnel, as well as loss of valuable production.

Its fast tripping time and high ICC rating (100 kA) provide a high level of protection for your various applications.

Applications

Suitable for industry, infrastructure and building applications.

Tesys GS range provides on-load breaking and making, safety disconnection and overload protection of all low voltage electrical circuits. The devices are commonly used for the protection and switching of incoming main circuits to electrical panels, including the emergency stop handle.