Hotel Room Controllers
Room control unit connects and manages guest room devices
The Hotel Room Controller controls connected guest room devices and aggregates data, making it visible to guest room and property management systems.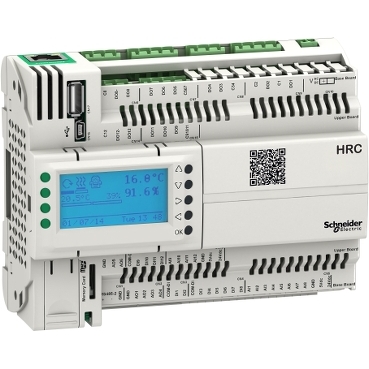 Features

The Hotel Room Controller (HRC) enables full lighting control, curtain control and bedside panel integration for an enhanced guest experience and advanced energy efficiency in full service and luxury hotels. Combined with the SE8000 Room Controller and EcoStruxure™ Guest Room Expert, our guest room management system, this solution provides occupancy-based energy management, and integrates with building automation and third-party systems and devices, such as property management and door lock.

The HRC aggregates data from all the subsystems and devices in the room. This data is then sent to Guest Room Expert, which provides the operator with a centralized and holistic platform to monitor and control individual rooms or the entire network for rooms. Guests enjoy personalized comfort, control and convenience, while hotel operators can drive energy efficiency, monitor alarms and events, and perform proactive maintenance.

Benefits

Enhance the guest experience: guests control curtains, room scenes, temperature, and more from a bedside panel, tablet, or BYOD.

Reduce energy by 25% - 44% with occupancy detection and temperature standby.

Gain visibility and control of rooms: occupancy, energy, temperature, humidity, DND/MUR, etc.

Enable proactive maintenance: avoid emergency repairs, reduce complaints, improve staff efficiency.

Meet brand standards for room settings, management sequence, setpoints, standby times, etc.

Applications

Full service and luxury hotel hotels seeking to provide an exceptional guest experience with advanced guest room functionality, while improving operational efficiency and driving down energy consumption.