Ecoreal Quick Quotation
Configuration software
New online quick quotation tool for switchboards up to 630A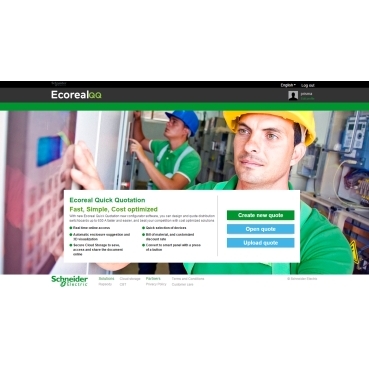 Features

Ecoreal Quick Quotation is a cloud-based application that generates a quote with bill of materials, price and 3D views of the configured switchboard in a few simple steps by filtering key technical characteristics.

You configure the switchboard with the devices you want from a selection of the best devices matched to your criteria. The proper enclosure is automatically recommended to you by the application. Save the generated quote in digital or Excel format in the secure cloud storage platform provided by Schneider Electric, making it accessible at anytime and from anywhere for you and your customers.

With a press of a button, you can easily covert the panel configuration into a smart panel!

Currently supports switchboards up to 630A.

Benefits

1. Get a quick quotation with necessary information

Quick Selection of key technical characteristics filtering for the right devices with the best devices matched and suggest the right enclosure.
Interactive 3D view and front view available, export BOM with price to excel file
Intuitive UX

2. Secure and easily accessible cloud-based solution

Connected to cloud storage to save and manage your project in your secured cloud safe with authentication

3. The first to support auto-conversion to smart panel

Easily convert traditional panel to smart panel with a press of a button.