PacDrive 3 robotics
Delta robots for pick & place solutions
Part of Lexium
PacDrive Delta 2 and delta 3 robots are designed for fast pick-and-place with payload capacities of up to 60 kg (delta 2) / 15 kg (delta 3).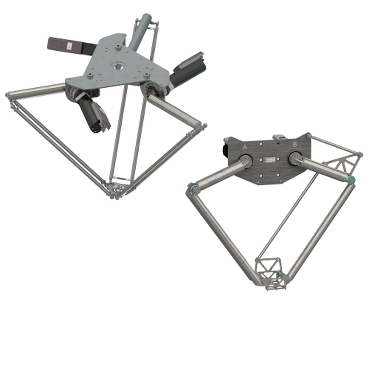 Features

The robotics solution is an add-on to the PacDrive product line, designed to satisfy the rapidly rising demand for the integration of robots into machine design: using Lexium 52, Lexium 62 servo motors or Lexium 62 ILM integrated servo motors for robot kinematics with up to 6 axes allows full integration into the PacDrive automation solution. Users can select library functions for integrating robots into the IEC 61131-3-compliant machine program structures of PacDrive LMC Eco/Pro/Pro 2 controllers. EcoStruxure Machine Expert tools form the basis for engineering, commissioning, and diagnosis of PacDrive based robotics solutions.
With the availability of complete robots kinematics, there is no longer any need to develop customer-specific kinematics or to integrate third-party products. Robot-enabled machine designs can now be created even faster. The PacDrive portfolio consists of Delta 2 and Delta 3 picker mechanisms, the latter available with or without motor housings.


Pre-assembled and ready to connect, compact design for ceiling mounting
Referenced ex-factory
Re-referencing ("homing") without additional tools
Standard components for mechanisms and drives
´Smart Template´ for easy commissioning

The PacDrive Delta 2 robots are quick, quiet, and reliable. Its maximum load capacity is 45 kg (99 lb).

2 basic types for scalable work envelope
Stainless construction
Protection class up to IP55
Easy-clean design

PacDrive Delta 3 robots are designed for fast pick-and-place operations. They stand out due to their short cycle times and an exceptional payload capacity of up to 15 kg (33.1 lb). When combined with a vision system, PacDrive Delta 3 robots can also be used for random and/or mixed product flow picking. An optimized tube/cable mounting through the parallel plate reduces the risk of collision with products and machine parts.

3 different types for optimum footprint
Three or four degrees of freedom
Pre-assembled and ready to connect, compact design for ceiling mounting
Stainless construction
IP65 rated, sealed stainless steel design for pharmaceutical and food applications (optional: IP69K and cleanroom class 6)
Suitable for washdown applications (P4 only)
Patented, fully welded stainless steel lower arms, no gluing, no issues with cleaning fluids


Benefits

With its PacDrive-based robotics solution, Schneider Electric has integrated robotics into a standard automation solution. Integration is simplified through a single, cohesive system free of complex interfaces :

One controller, one program, one operating concept for controlling entire machines and multiple robots
Standard PacDrive LMC Pro or Eco series motion controller, Lexium servo motors and servo drives
Engineering with standard EcoStruxure Machine Expert tools for PacDrive, IEC 61131-3-compliant, CoDeSys-based programming
Software library for path generation, kinematic transformation, blending and interpolation, acceleration limiting, belt tracking, and more
Support and service from a single source for the entire automation solution

Applications

PacDrive delta 2 and delta 3 kinematics offer a fully integrated solution for many pick-and-place packaging and handling applications. The stainless kinematics are well suited for the food, pharma, cosmetics, and beverage industries.