Vamp Measurement and Monitoring Units
Power quality measuring and monitoring with IEC 61850 communication
Vamp 96, Vamp 260 and WIMO 6CP10 measurement and monitoring units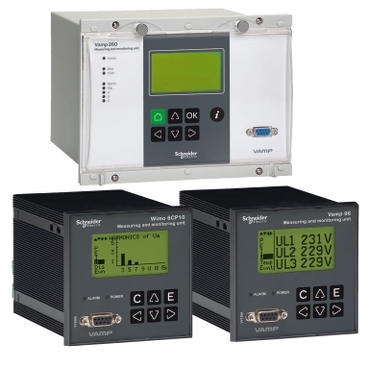 Features

VAMP measuring and monitoring units offer complete analysis of consumption and power quality monitoring in generation and distribution applications. The range, including VAMP 96, VAMP 260 and WIMO 6CP10 cover a number of functions such as measuring, calculations, transducer, alarm handling, information display and communication. The units provide a vital overview of the power system by detecting current and voltage harmonics as well as other power quantities and offer power system fault location should a fault occur. In modern society where non-linear loading in the network is increasing, power quality monitoring is becoming an increasingly important concept for power generation and distribution and VAMP measuring and monitoring units offer a complete solution for this demand.

Standard Manufacturers Warranty: 2 years

Benefits

Intelligent measurement and monitoring
The VAMP and WIMO meters come with an extensive selection of pre-configured data and measurements that you can use or customise to fit your metering requirements.
Cost allocation and billing
Determine consumed energy by production cost centres according to the EU's Energy Service Directive (ESD) 2006/32/EC.
Demand and power factor control
Avoid penalties with automated load shedding, scheduling, peak shaving or capacitor bank control.
Equipment monitoring and control
Improve process yields and extend equipment life. Extensive analogue and digital I/O enables system monitoring and control.
Power quality and disturbance analysis
Capturing abnormal disturbances in power quality like harmonics, voltage interruptions, voltage sags/swells and imbalance.
Preventative maintenance
Set up alarms to warn of pending problems in advance.
Extensive communication
Large number of supported communication protocols are included...Profibus DP, MODBUS TCP, Modbus RTU or SPA communication in industrial applications. Utility applications have supported communication including IEC 61850, IEC 60870-5-101, IEC 60870-5-103, DNP 3.0 and SPA protocols.

Applications

VAMP 96: Used as a standalone device in industrial and utility applications including low and medium voltage power distribution panels. VAMP 96 has MBus protocol in order to support connectivity with the Automatic Meter Management (AMM) systems.
VAMP 260: Heavy duty industrial applications where the environmental and disturbance conditions are demanding. VAMP 260 can be connected to the protection core of current transformers.
WIMO 6CP10: Utility applications, also suitable for secondary power distribution substations.