APC ES
Best Value UPS with Battery Backup & Surge Protection for Home Computers
The most popular desktop UPS in the world!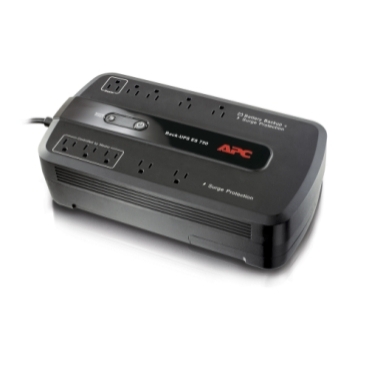 Features

The Back-UPS ES offers affordable battery backup and surge protection for home computers. With enough power outlets to protect your entire system, built-in phone/fax/modem line (DSL compatible) protection and easy-to-install safe system shutdown software all make this power protection solution the best value for home and home office computers.



Benefits

Convenience

Audible alarms - Provides notification of changing utility power and UPS power conditions
Automatic self-test - Periodic battery self-test ensures early detection of a battery that needs to be replaced.
Cold-start capable - Provides temporary battery power when the utility power is out.
Hot-swappable batteries - Ensures clean, uninterrupted power to protected equipment while batteries are being replaced
Resettable circuit breakers - Enables a quick recovery from overload events.

Protection

Battery-protected and surge-only outlets - Reserves power capacity and run time for connected equipment that require UPS battery back-up while providing surge only protection for less critical equipment
Dataline surge protection - Provides protection of connected equipment from power surges on the data lines.
Power conditioning - Protects connected loads from surges, spikes, lightning, and other power disturbances.
Safety-agency approved - Ensures the product has been tested and approved to work safely with the connected service provider equipment and within the specified environment.