Acti 9 iC60 L-MA
Motor starter protection up to 40A
Motor circuit protection for DC current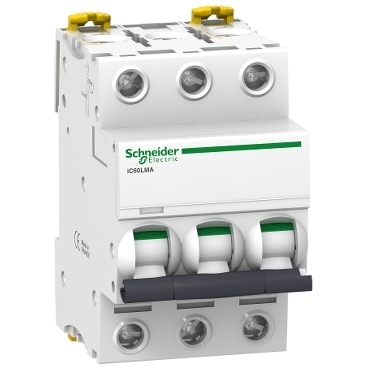 Features

The Acti 9 iC60 L-MA DIN rail range offers extensive features that provide maximum safety and continuity of service while minimizing service and intervention time.


Nominal current: 1 to 63A
Large choice of breaking capacities up to 100kA
Choice of tripping curves: B, C, and D
Compliance with standards IEC/EN 60898 or IEC/EN 60947-2
Full coordination with Acti 9 range residual current devices (RCDs) and compact NSX molded case circuit breakers (MCCBs)
Suitable for isolation in accordance with industrial standard IEC 60947
Operating voltage: up to 440 V AC
Insulation voltage: 500 V
Optional add-on earth leakage modules: iC60 Vigi
Optional modules for: indication of state and tripping, shunt tripping, undervoltage tripping, overvoltage tripping
VisiSafe provides a visible green indicator showing which circuits are disconnected and safe for maintenance operations
Front face class II insulation provides additional protection for personnel against electric shocks when operating the device
VisiTrip is a clearly visible indicator that instantly shows which circuit/outgoer is faulty and reduces the service intervention time
Optional add-on modules: fully immune earth leakage protection devices for better continuity of service, especially in polluted environments and networks.

Benefits

Peace of mind that comes from using a fully modular system: expansion and modification of an installation is not only possible but is simple and rapid to perform

Seamless integration with the complete Acti 9 range of products.

Applications

Low-voltage final distribution

Motor circuit protection
DC current circuit protection.