Acti 9 C120
Miniature Circuit Breakers up to 125 A
DIN rail miniature circuit breakers (MCB) offering circuit protection against short-circuit and overload currents. Suitable for isolation in compliance with IEC 60947.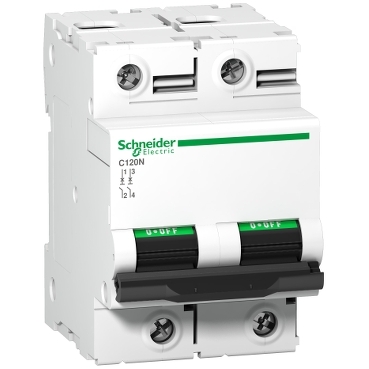 Features

Acti 9 C120 DIN rail, miniature circuit breakers offer extensive features that provide maximum safety and continuity of service while minimizing service and intervention time:

Nominal current: 10 to 125 A
Large choice of breaking capacities and tripping curves (B, C, D)
Compliant with IEC EN 60898 or IEC 60947-2 depending on the version
Suitable for isolation: compliant with IEC 60947
VisiSafe provides a visible green indicator showing which circuits are disconnected and safe for maintenance operations
Operating voltage: up to 440V(AC)
Insulation voltage: 500V
IP20 terminal insulation
Optional add-on residual current device modules: C120 VigiRemote tripping (shunt, overvoltage or undervoltage release) and status indication (open/closed) by adding optional auxiliaries.

Benefits

Longer product service life thanks to:

Good overvoltage withstand capacity: products are designed to offer a high industrial performance level (degree of pollution, rated impulse withstand voltage and insulation voltage)
High limitation performances
Fast closure independent of toggle operating speed.

Applications

Protection of electrical circuits in all industrial and commercial buildings

Particularly suited to higher ratings applications.