Prisma Pack 160
Solution for tested and IEC compliant low voltage switchboards up to 160 A
Part of Set Series
Wall-mounted enclosures for integrating Schneider Electric offerings and ensuring consistent electrical, mechanical and communication functions, in conformity with IEC61439.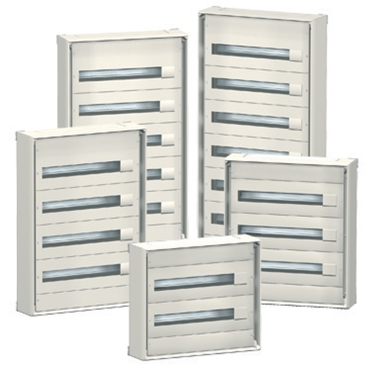 Features

A robust enclosure dedicated to small tertiary buildings. The solution is suitable for low voltage electrical distribution switchboards up to 160 A.

Specifications:

Compliant with IEC 61439-1-2 and-3 standards
Color white RAL 9001
Degree of protection: IP30 to IP43
Degree of protection against mechanical impacts: IK07 and IK08

Prisma Pack 160

Up to 160 A, Icc 50kA
All-in-one assembled and ready-to-equip wall-mounted enclosures
Single part number for a complete enclosure
Enclosures from 2 to 6 modular rows

Benefits

For high-performance and simple switchboards

Prisma Pack 160, coupled with our communication devices, becomes an EcoStruxure™ connected equipment offer within our EcoStruxure Power architecture.

Pack 160 contributes to high reliability and continuity of service of the electrical installation.
All components (switchgears, busbars, distribution blocks, prefabricated connections, etc.) are rated and coordinated for joint operation.
All switchboard configurations have been tested and are IEC standard compliant.

Applications

The Prisma Pack 160 is ideal for low voltage distribution switchboards in small retail buildings.