S3000
Modular upmarket residential & commercial plastic range with LED's
Modular upmarket residential & commercial plastic range with LED's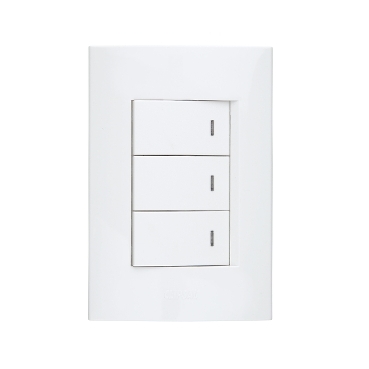 Features

Available from 1 to 6 levers switches as well as single and double switched socket outlets. Both are available in either 50mm x 100mm or 100mm x 100mm sizes. The light lever switches are rated at 10AX, 250Vac and the switched socket outlets are rated at 16AX, 250Vac. Conformity to SANS and IEC standards



Benefits

S3000 Modular upmarket plastic range

The S3000 Modular upmarket plastic range includes an array of switch module options, allowing for a variety of product configurations. Sockets include TV, data, telephone, RCA sockets and the dedicated switch modules with selected icons for dedicated use. The S3000 range is also compatible with the S2000 30-series mechanisms. The unique clip on surrounds hide mounting screws which are easy to remove when painting. This makes painting effortless as you dont have to worry about painting too close to the edges. All S3000 products are available in white or black with 8 stunning colour surrounds in blue, champagne, charcoal, gunmetal grey, platinum, red, black and white. These interchangeable surrounds provide a limitless choice of colour combination to suit any interior. All S3000 can accommodate a Neon or LED lamp, inserted into the back of the product. The innovative design of the S3000 switches include a retainer with a light-diverting shield which is used to intensify the light and direct it to the front lens, minimising light loss through the sides of the switch. The frames are available in various sizes and the 'teeth' ensure modules fit properly.The unique nature of the range allows combinations of switches, socket outlets, audio and the TV in the same grid plate, providing you with greater options. The range also includes a stove disconnector and a shaver socket.

Applications

Residential and Commercial applications.