TwinBus Indoor Station
Indoor telephones and intercom units for the entire internal communication
Security and comfort in perfection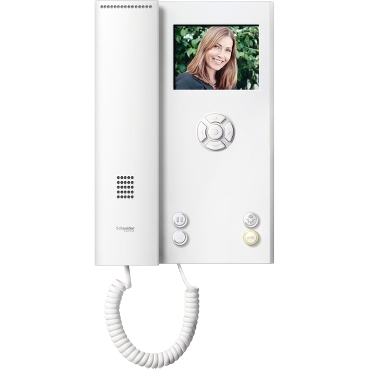 Features

Indoor telephones and handsfree intercom units with modern design form a harmonious union with door stations. Allowing you to speak with your visitors before you open the door with the press of a button, all from the comfort and safety of your apartment. Behind the award-winning design lies perfect technology, with reliability and quality you can count on. Bringing convenience and security into your home.

Convenience, security and versatile communications technology are things that no one wants to be without these days, even in the private sphere. That's why door entry systems have long been a standard fitting in apartments, homes and residential complexes – and all the better if they come with video surveillance. The key concept here is "TwinBus" – because this innovative and proven technology pays for itself three times over: through quick and tidy installation, through unbeatable flexibility, and through prestigious product design.

Benefits

Indoor telephones and intercom units

Indoor video


TwinBus Indoor video station and TwinBus Video handsfree intercom unit:

Big 89 mm (3,5") TFT colour display
On-Screen Menu in 13 languages
Easier to clean – display's cover
Optimized sound with > 73 dB(A) at 50 cm
Melodious ringtones in real sound quality
Backwards compatibility, easy to extend existing TwinBus systems
Choosing the comfort version is an upgrade in functionality:
Automatic door opener – More ringtones – Call memory for internal calls – Potential free button

Indoor audio


Award-winning design, exceptional functionality, and easy installation.

These characteristics are shared by all indoor telephones and intercom

units. Perfectly in tune with each other thanks to TwinBus.

Innovative technology and intuitive operation
Optional convenience features capable of meeting any requirements
Extremely flat design for surface or flush-mounted installation
Upgradeable in the future: easily expandable at any time

Applications

Indoor stations are prepared for different building types like residentials and offices.