VPIS
Voltage Presence Indicating Systems for MV Switchgear
VPIS are a self-powered Voltage Presence Indicating Systems, in compliance with the IEC 62271-206 standard.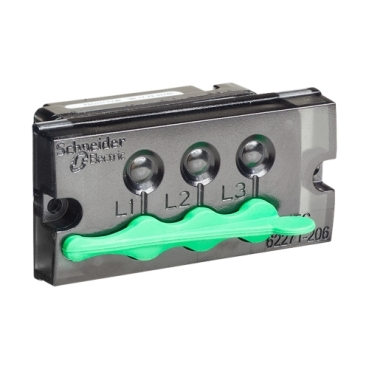 Features

VPIS provides:

- Voltage presence indication by LEDs: High reliability, very long life time.

- Connectors on the front panel allowing the use of a Phase Concordance Unit to carry out phase comparison between 2 VPIS.

- For "Voltage Output" versions, a 1m cable with a connector at the end providing an image of the Voltage signal to devices such as Voltage presence relays, Fault Passage indicators or Feeder RTUs such as T300.

Benefits

- With more than 2 Million devices installed, Schneider Electric VPIS has proved its high reliability
- Easy to use Phase Concordance Unit available
- Cost effective Voltage sensing to use in advanced Smart Grid applications

Applications

VPIS V2 and VPIS V3 technical leaflets provide the VPIS V2 or V3 reference appropriate for each network Voltage range the numerous Schneider Electric Medium Voltage equipment in which they have been qualified.

Contact us to find the right reference for any other Medium Voltage equipment.

For each equipment in which it is installed, VPIS allows to indicate the presence of voltage. This is required for all metal enclosed equipment that does not allow the use of other means since live parts cannot be accessed.

Phase concordance is a key information before connection of 2 network parts together.

VPIS "Voltage Output" allows devices to which the voltage signal is provided to:

- Determine voltage presence or absence. This is typically used for Auto Change Over applications.

- With VPIS V3: Run Directional Fault passage Indicator algorithms, which are required on network with compensated or isolated neutral as well as network with high percentage of distributed generation or closed loops.

- With VPIS V3: Provide a basic Voltage measurement (accuracy according to MV equipment).